GUIDE TO JIZERSKA 50

Getting to the race
Jizerska 50 is located in the heart of Jizera mountains and getting there could be difficult during the winter. We've prepared this guide so you don't have to spend hours searching for the connection, accomodation or fun activities during your stay in the Czech Republic.
Transportation during the event
Shuttle transport to Bedrichov on Saturday and Sunday is free of charge for the racers. The transport ticket will be a part of a starting package. Shuttle bus will operate from Liberec and Jablonec nad Nisou.
Complete and updated schedule of shuttle buses here .
Parking lots location:
AREA 1 – by start (Organizing team, PRESS, buses)
AREA 2 – 1,5 km / 15 min by walking
AREA 3 – 1,3 km / 20 min by walking
Recommended parking lots locations in Liberec and Jablonec nad Nisou
Liberec parking
Jablonec parking
By car
The center of the race is easy to access by car. Regarding to this, amount of the racers coming by car in the morning before the race will be enormous. We recommend you to reserve your own parking place or leaving your car in Liberec or Jablonec
Parking cards for Sunday are already sold out – if you haven't bought one, please leave your car in Liberec or Bedrichov and use our free shuttle service.
Parking
Securing your parking spot in advance is possible while registering online through sportid.cz. Limited number of parking spots only. It costs 300 CZK (approximately 11,6 €); parking card is issued during the distribution of starting numbers. The entrance to the parking area is only permitted with a parking card, which must be placed behind the windscreen.
On Saturday and Sunday, Bedrichov is close to traffic from 6.00 a.m. to 10.00 a.m. Only cars with a parking card will be allowed to enter, therefore, we recommend you parking in Liberec or Jablonec nad Nisou and use shuttle bus service instead.
Accommodation
Participants and visitors of Jizerska 50 can expect a wide range of affordable accommodation options. We teamed up with the biggest Czech travel agency Cedok and devised for you a simple booking system for hotel accommodation. As we know the region well, we picked the most suitable hotels in Liberec, Bedrichov and Jablonec nad Nisou in all price categories. You will find the full offer of accommodation on the website cedok.com
If you miss any information, don't hesitate with contacting local tourist information centers and they will be happy to help you.
If you are interested in personalized option, or if you need any help with booking bus or flight tickets, contact j50@cedok.cz .
If you couldn't find any suitable accommodation for your needs, try booking.com
Discover
Do you have a few spare days before or after the race? Take that as an advantage and discover more of the Czech Republic!
Czech Tourism will provide you with all the information needed for your trouble-free stay. Just by selecting your destination, you get access to all the information you might need. Don't know where to go yet? Get inspired by many articles or search for events happening nearby!
Important travel information such as currency, border crossing etc. is explained here .
Beautiful places nearby
There are many beautiful natural and historical spots in the region of Jizera mountains.
In cooperation with the Czech Tourism, we put together a few highlights:
Liberec
Liberec is a capital city of the region very close to Jizerska 50. The city offers wide range of activities that you could find interesting. You can find many information about the city, attractions and events here.
We chose the most interesting attractions, whose websites can be found below:
JESTED
(outlook tower and the hotel with the cable car)
SKODA MUSEUM
(Ferdinand Porsche Birth House)
ZOO LIBEREC
IQ LANDIA
(modern science center either for kids and adults)
Tourist information centers of the cities nearby
Other skiing destination
We thought you might want to try skiing in other Czech mountains. Below, you can find link for other great (not only) cross-country skiing destinations.
Jizera mountains
Cross-country skiing in Jizera mountains is not merely about Jizerska 50. There are many other routes all around the region. Check the list of the most renowned ones here . The most detailed maps of skiing routes are available here + you can download them to your phone
Jizera mountains also offers many options for downhill skiing. Check actual information about skiareals here .
Bedrichov, the center of 55. Jizerska 50 offers a family ski center with wide options for family sport activities. The most beautiful sceneries can be spotted while skiing in Jested ski resort with the stunning lookout tower above.
Typical Czech cuisine
If there is anything you shouldn't miss out, it's the Czech cuisine. We believe that connecting your participation in Jizerska 50 with a gastronomical experience could become an unforgettable memory
There are just a few things you should look up for in local restaurants:
BEEF SIRILION
with dumplings and vegetable cream sauce
ROAST PORK
dumplings and sauerkraut
FRIED CHEESE
with French fries and tartar sauce
BEEF SIRILION
with dumplings and vegetable cream sauce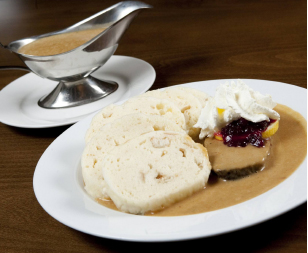 ROAST PORK
dumplings and sauerkraut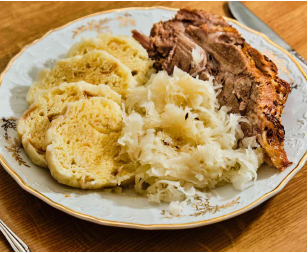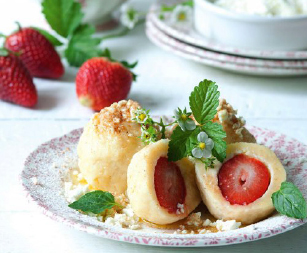 FRIED CHEESE
with French fries and tartar sauce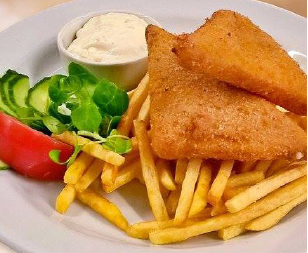 Typical Czech cuisine
Czech Republic is a worldwide famous producer of beer. There are more than 400 different breweries in the country. Therefore, for a truly local experience of a Czech cuisine, we recommend ordering a beer with your meal too!